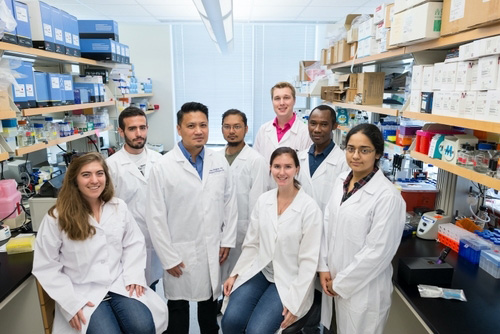 We take advantage of innovative approaches from a broad remit of disciplines- Transcriptomics, Proteomics, Chemical Biology, Molecular Parasitology, Molecular Vector Biology, Arbovirology, Glycobiology, and Vaccinology, to develop enabling technologies to support studies in vector-borne diseases that hopefully can eventually contribute to elimination and eradication efforts for diseases such as malaria and dengue.  This "Integrative Biology" or "multi-OMICS" approach allows us to finally address critical biological questions in the context of human/vector host-pathogen interactions with respect to malaria and arbovirus transmission biology.  [Yes, we also work on COVID-19 to contribute our skills where possible to fight the pandemic]
Dr. Rhoel R. Dinglasan, PhD, MPH
Rhoel Dinglasan attended graduate school at Yale University, earning a MPH in Global Health with a concentration in Infectious Disease and the MPhil in Molecular Vector Biology (Dengue transmission/Wolbachia biology), before transferring to the Center for Vaccine Development at the University of Maryland, School of Medicine, to earn a PhD in Microbiology & Immunology, working in the laboratory of Prof. Abdu Azad on Anopheles mosquito glycobiology.  He completed his postdoctoral training at Johns Hopkins Bloomberg School of Public Health in the laboratory of Prof. Marcelo Jacobs-Lorena, before transitioning to a tenure-track Assistant Professor position at Johns Hopkins. He was then recruited to the University of Florida (UF), where he is a full Professor in the Department of Infectious Diseases & Immunology, College of Veterinary Medicine, and the UF Emerging Pathogens Institute.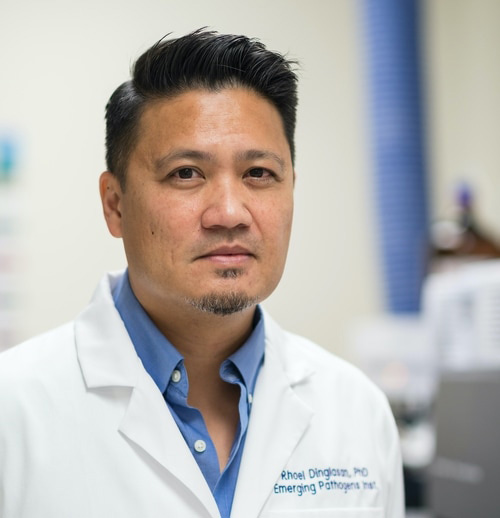 To support malaria elimination and eradication as well as parallel efforts at controlling arbovirus transmission, the lab is focused on understanding the fundamental biology mediating host-pathogen interactions and translating these scientific insights into novel disease interventions.
Laboratory Overview: Host-Pathogen Research
Arthropod transmission of pathogens such as the malaria parasite (Plasmodium spp.), dengue virus or Zika virus drives the spread of these pathogens and the diseases that they cause in both endemic and epidemic settings around the Globe.  Our program's objective is to characterize the drivers of pathogen transmission by mosquitoes at both the molecular and ecological level to fully understand vector host-pathogen dynamics and disease risk in the laboratory and in the field.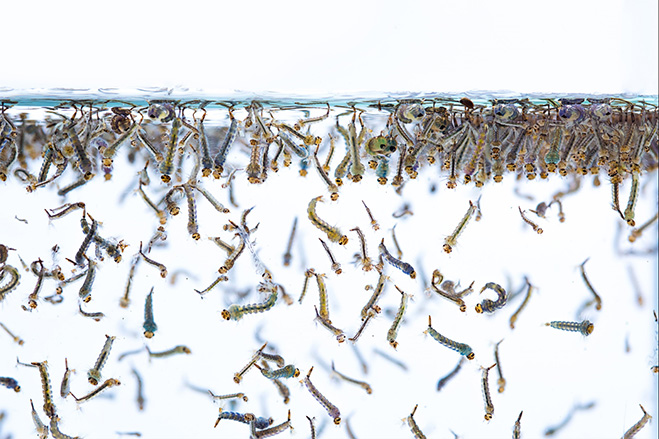 • NIAID/NIH
• NIBIB/NIH
• Global Health Innovative Technology Fund
• U.S. Centers for Disease Control and Prevention
• PATH-Malaria Vaccine Initiative
• Bill & Melinda Gates Foundation
• Human Frontiers Science Program
• Johns Hopkins Malaria Research Institute
• University of Florida Preeminence Initiative
• University of Florida Emerging Pathogens Institute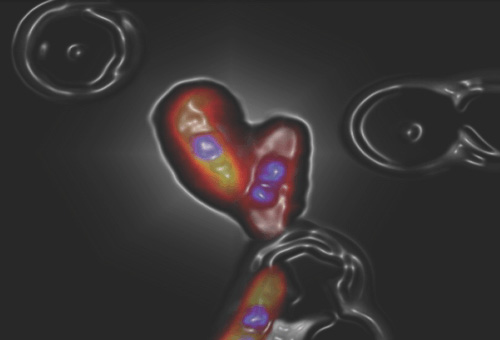 Collaborating Institutions
• Armed Forces Research Institute of Medical Sciences,  Thailand
• BOKU, Austria
• Brown University, USA
• Center for Research in Infectious Diseases, Cameroon
• Center for Medical, Agricultural, & Veterinary Entomology (CMAVE), ARS-USDA, USA
• Centre Pasteur du Cameroun, Cameroon
• Centre de Recherches Médicales de Lambaréné (CERMEL), Gabon
• CINVESTAV-IPN, Mexico
• Ehime University, Japan
• Harvard School of Public Health, USA
• Hokkaido University, Japan
• Imperial College of London, UK
• Ifakara Health Institute, Tanzania
• INSP, Cuernavaca, Mexico
• Institut Pasteur, France
• International Centre for Insect Physiology & Ecology, Kenya
• INRB, Democratic Republic of Congo
• IRD Montpellier, France
• Johns Hopkins University, USA
• The Jenner Institute, University of Oxford, UK
• Kinki University School of Medicine, Japan
• Kinshasa School of Public Health, Kinshasa, Democratic Republic of Congo
• London School of Hygiene & Tropical Medicine, UK
• Laboratory of Malaria & Vector Research, NIAID/NIH, USA
• Mahidol University, Thailand
• Massachusetts Institute of Technology, USA
• Monash University, Australia 
• Mercy Research Hospital Laboratory, Sierra Leone
• Muhimbili University of Health & Allied Sciences,
Tanzania
• Naval Entomology Center of Excellence, USA
• Naval Medical Research Unit-4, Ghana
• Naval Medical Research Unit-6, Peru
• The Noguchi Memorial Institute for Medical Research, Ghana
• Ohio State University, USA
• Oregon Health and Sciences University, USA
• Radboud University Nijmegen Medical Center, Netherlands
• Redeemer's University (ACEGID), Nigeria
• RMIT University, Australia
• Rwanda Biomedical Centre, Rwanda
• Technical University of Munich, Germany
• Tübingen University, Germany
• University of Dschang, Cameroon
• University of Ghana (WACCBIP), Ghana
• University of Glasgow, Scotland
• University of Massachusetts Medical School, USA
• University of North Carolina at Chapel Hill, USA
• University of Miami, USA
• University of Milan, Italy
• University of Nebraska Medical Center, USA
• University of Sciences, Techniques & Technologies of Bamako, Mali
• University of South Florida, USA
• University of Texas-Medical Branch, USA
• USAMRU-K, Kenya
• US Naval Research Laboratory, USA
• Vanderbilt University, USA
• Vaccine Research Center, NIAID/NIH, USA
• Walter and Eliza Hall Institute for Medical Research,  Australia
• Walter Reed Army Institute of Research, USA
Learn more about the research in the Dinglasan Laboratory.
STAY UP TO DATE WITH OUR LATEST NEWS. LEARN ABOUT NEW DEVELOPMENTS, TREATMENTS, VACCINES, OUR LAB & MUCH MORE!